Your dad is your first superhero, role model and your friend for life. He may seem a little unusual at times but he is the person who loves you the most no matter what the situation is. Although he may not show his love, he can do anything to make you happy. Father's Day is the occasion when you can show your love and gratitude towards your dad and make him feel proud. Whether your dad makes unusual choices or he is a simple person with a simple life, choosing Father's Day gifts that are made just for your father can be a little tricky. The Father's Day gifts list presented here by OyeGifts holds something for dads of every interest and personality:
Special No. 1 Dad Cake
Show your Dad how much you love him with this delicious cake. It is a designer cake that has been crafted for the occasion. It is a beautiful cake with a no.1 badge crafted on top of it. This cake can be customized as it can be baked in the flavour of your choice. You can place in your orders for chocolate/ pineapple or vanilla flavours. This cake works as a pretty cake that is too yummy as well.
A Dad Like You
For the times when you are a little low on budget, here's the perfect gift. Pamper your Dad in a simple manner with this classic coffee mug to put it precisely. It is one ceramic coffee mug. It comes printed with the message, ''Best Father Ever'' along with a matching illustration. It doesn't take much to win over your father, for this coffee mug is enough to make him feel special on the special day.
Perfect Elegance
This is truly a beautiful hamper that has been crafted to perfection. It is a scintillating combination of flowers and dry fruits for the matter. This hamper contains a bunch of 5 purple orchids that are neatly done in a bunch. This comes combined with a half kg mixed dry fruits basket. This basket contains an assorted choice of mixed dry fruits. The basket is done with a decorative ribbon bow for the matter.
Snacks With Dry Fruits
Is your dear Dad a foodie? Does he love those packs of munchies? Is he someone who simply loves snacking? Well, if he does, then, here's the perfect pick. This is a delightful combination of snacks with dry fruits to put it precisely. This basket arrangement of snacks includes exclusive choices like, fruit juices, Kurkure, Haldiram's mixtures, Bikano navratan mixture, biscuits, dry fruits etc.
American Tourister Combo
Charm your Daddy dearest with this hamper full of utility essentials for the matter. This is indeed an exclusive choice of Father's Day gifts to put it precisely. It includes silver colour bottle, an American Tourister black laptop bag. Further, these items are combined with a Signora Ware lunch box. Care for your Dad in a thoughtful manner with this charming choice of a combination hamper.
Yellow Gerberas Fruity Combo
Gift your Dad vibrant flowers along with fresh fruits this Father's Day. It is a fascinating choice of hamper that includes a bunch of bright gerberas. It has a bunch of 12 sunshine yellow gerberas that come arranged in a cellophane wrap. The flowers are tied with a matching yellow ribbon bow. This is combined with a 2 kg basket of assorted fruits along with a greeting card.
Essentials Kit For Dad
Add a memorable touch to Father's Day gifting with this basket full of essentials. This is an exceptional choice of a hamper that contains a 50ml Colour Me perfume, 1 blue towel, 1 loofah. The items further come combined with 1 Fiama Di Wills Men Shower Gel pack of 250ml. In addition, it contains one 50 grams pack of Nivea Men All-In-1 face wash. The items are all arranged in a decorative designer basket.
Men's Choice
Bearing testimony to its name, this hamper contains choice able items of men. This incredible hamper contains a small business organizer diary that comes with a pen holder. It also contains 1 men's leather wallet, a set of 3 handkerchiefs, a 122 ml pack of Signature body perfume. Further, it comes combined with a 120grams pack of Cadbury celebrations rich dry fruit pack and a apple shaped golden colour watch.
Best Dad Ever- Fridge Photo Magnet
Gift your Dad a finely crafted gift that is truly an offbeat choice of gift. This is a fridge magnet that is open for customization. You can personalize this fridge magnet with the picture of your choice along with small captions like, ''Best Dad Ever''. It is a fridge magnet with wooden texture base. It is sure to remind your Dad of your love on a daily basis whenever he looks at the fridge magnet.
Money Plant With Celebration
For those fathers who are lovers of nature, this can make for a great gifting idea. This hamper brings forth a unique combination of chocolates and plants. It is a combination hamper that includes a prosperous Money plant that comes in a plastic pot. This green plant comes combined with a 121 grams pack of Cadbury Celebrations chocolates. It is indeed a unique choice of Father's Day gifts.
Freshness Personified
Buy Father's Day gifts online here in an incredible choice of hamper for the occasion. It contains one Signature Deodorant and 1 pack of Gillette After Shave lotion. These items are combined with 4 pieces of Ferrero Rocher chocolates to put it precisely. It is a hamper with classy products that bring forth a stunning combination. It is truly a luxurious hamper to pamper your Dad this Father's Day.
Elegant Sansevieria With Ceramic Cup For Energetic Dad
The beauty of this plant is truly remarkable to say the least. It features an elegant Sansevieria plant that comes in a 4.3 inches cup shape ceramic pot. This round cup shaped ceramic pot comes with a plate as well. The plant is arranged with pebbles, marble chips etc. to add a touch of beauty to the arrangement, It also comes with a moustache cut out flag which renders it perfect for Father's Day gifting.
Exclusive Gift Set For Him
Add a touch of class and sophistication to your Father's Day gifting with this amazing hamper. It is an exclusive gift set for him as the name suggests. It contains an ethnic eye design cufflinks set, a black modest tie. In addition, these items are combined with a brown polyester bow tie with cocoa ruffles for the matter. This hamper also includes a pack of Lindt Lindor box of chocolates.
Sugar Free And Coffee Father's Day Combo
If your Dad is a coffee lover, then, there can be no better gift for him than coffee. This is a super cool Father's Day hamper that includes a white ceramic coffee mug with a heartfelt message. It includes a 50 grams pack of Nescafe coffee. This comes combined with a 100 grams pack of Sugar Free Gold to put it precisely. Don't forget to surprise your Dad with this exciting hamper.
Carlit- Personalized Car Accessory For Dad
If you are looking for unique Father's Day gifts online, then, your search ends right here. This is a beautiful car accessory that is open for personalization. It is a car dashboard accessory to put it precisely. It can be customized with a picture and a small caption. The captions are thoughtful ones like, ''Drive Safe Dad! We Love You'' etc. This is truly a fascinating gifting idea.
Dry Fruits N Lucky Bamboo Combo
For the Dads with a unique taste in gifts, here's the ideal hamper. It is a stunning gift hamper that features a quirky combination of items. This hamper contains a two layer lucky and prosperous Bamboo plant in a glass jar. This comes combined with 100 grams of Almonds and 100 grams of cashew nuts. The dry fruits come in separate packings.
Parker N Leather Supply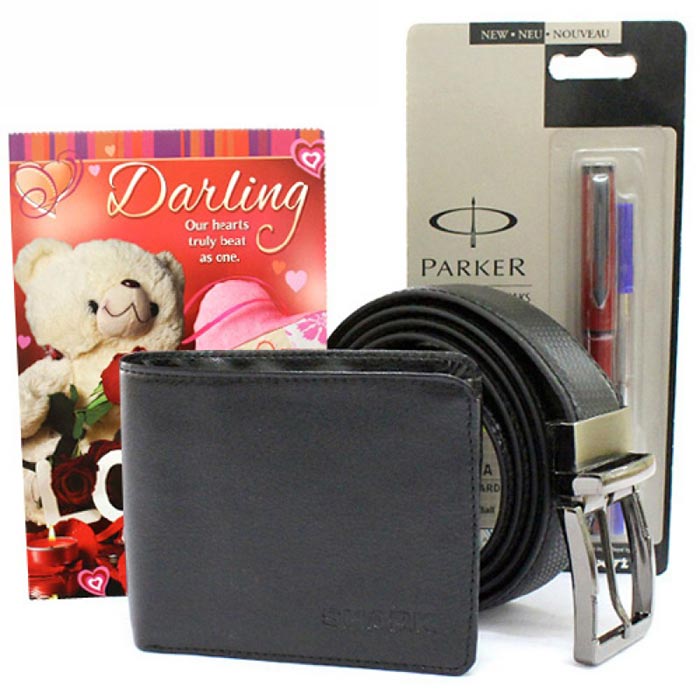 A sophisticated person like your dad would love this thoughtful Father's Day gift hamper that consists of a Parker Beta Premium Roller Ball Pen, a leather wallet and a leather black belt. The gift hamper also includes a complimentary greeting card where you can express your love through a sweet Father's Day note. Show your love and respect to your dad this Father's Day by choosing this useful gift hamper.
For Classy Men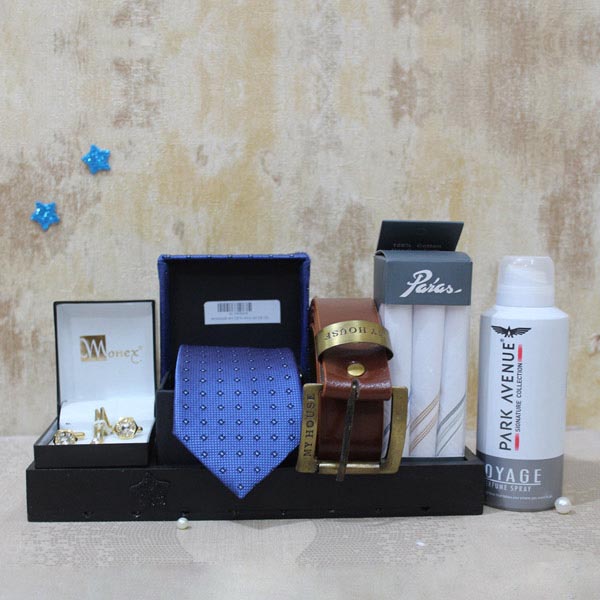 If your dad admires useful gifts, then this hamper is simply one of the best gifts for father. Impress him with this simple yet elegant gift choice that is inclusive of various useful stuff for him – a stylish belt, an elegant tie, a pair of golden stone studded cufflinks with tie pin, a set of three handkerchiefs, and a 130ml Park Avenue Men's deo. This Father's Day gift will win his heart and he will surely admire the choice of his son/daughter.
Lily Truffle Delight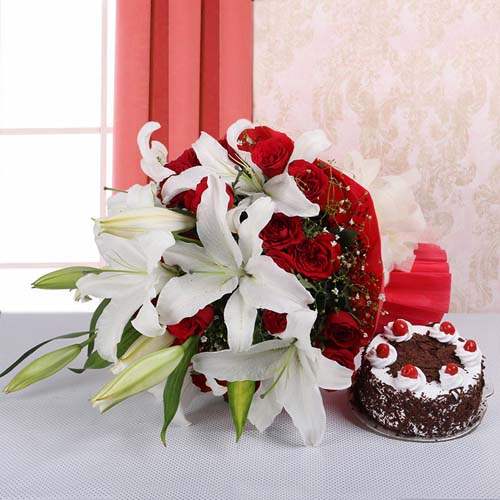 For happening dads who love to celebrate each and every moment of life, this Lily Truffle Delight is a simple and special gift on Father's Day. A well-arranged bunch of 6 Asiatic lilies in blue and white paper packing looks simply elegant and reflects your true emotion towards your dad. The chocolate truffle cake is the sweet delight for the special occasion that honours all dads. Order this gift online to impress your father and make his day a lot special.
Personalised 3d Photo Crystal Rectangle Shape
3D photo crystals make an exclusive gift to impress your dad. If you are searching for unique gifts for Father's Day, then your search ends here. Very innovative and unique personalised gift, 3D photo crystals are perfect to preserve memories. Share your favourite photo with your dad and this photograph will be converted into 3D image to be later engraved inside the crystals. High-quality crystals look superb and fancy as a gift option.
Dad N Me Cushion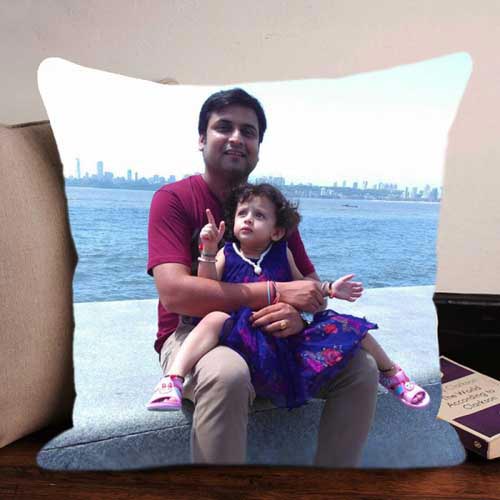 Revive your old memories with your dad through this wonderful Father's Day gift. Dad N Me Cushion is a personalised cushion with a picture of you with your father. You can choose any photo which captures the special bond between you and get it printed over it. Send this gift to your dad and he will be busy recalling the beautiful past memories. This could be an emotional gift for your dad on a special day.
Father's Day Pineapple Cake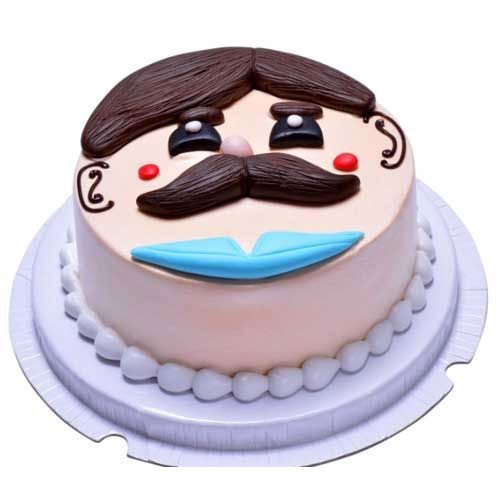 Let the child in you and your dad come alive with this wonderfully decorated Father's Day Pineapple Cake by OyeGifts. Order this cake online and get it delivered to your doorstep to surprise your father and celebrate the day with him. After all, celebrations are incomplete without cakes, and the midnight delivery of cakes by OyeGifts makes this occasion even more delightful. Your dad will love to cut this cake and rejoice the special moment with you.
Love For Dad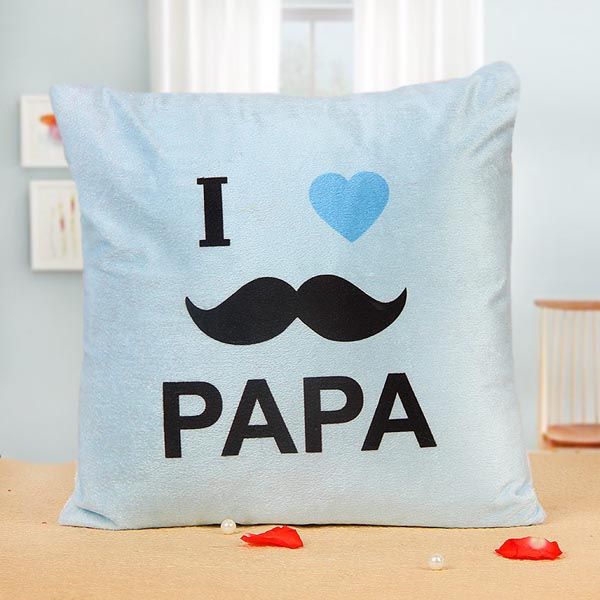 While dads leave no occasion to make you feel loved, Father's Day is the opportunity to make him feel loved. Let your father know how much you love him and what he means to you with this soft and fluffy cushion with a love note for dad. This lovely cushion will not just comfort him, but also make him feel special and proud of you. Order this cushion online to send your love and wishes to your dad if you are away.
Sai Brass Idol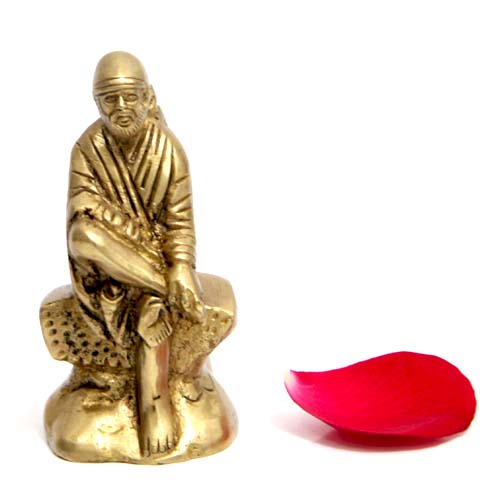 A spiritual dad would love this wonderful brass idol of Lord Sai. A symbol of simplicity, love, hard work and honesty, Lord Sai idol can fit anywhere in your home and will remind your dad of your love. For a simple dad, this is an ideal Father's Day gift option. He will feel admired and loved with this gesture shown by you on the special day. This is a perfect gift for your dad who has everything.
Awesome Dad Recipe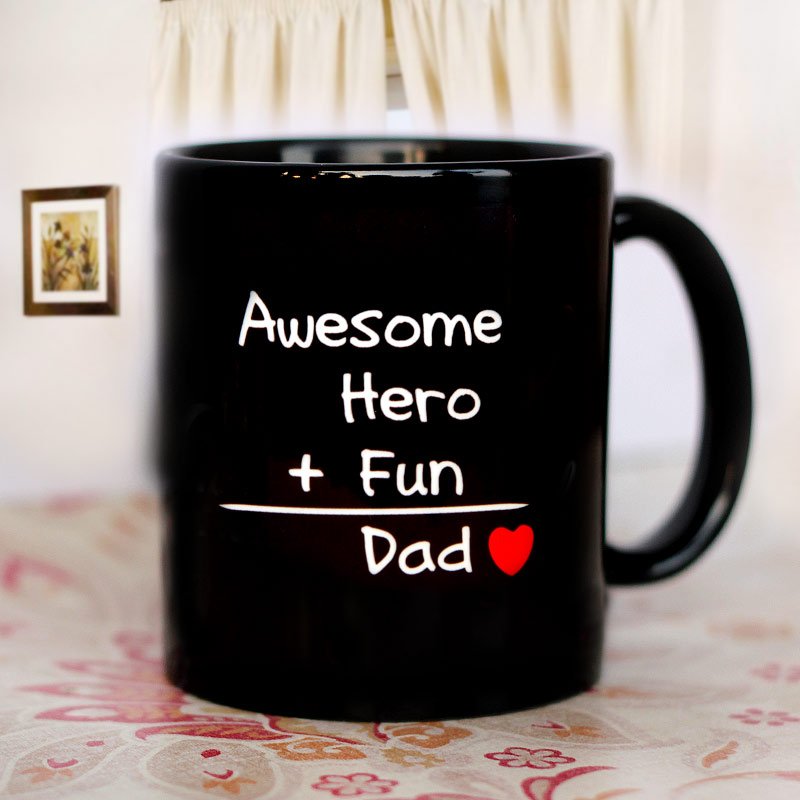 Dads are real-life superheroes. They have a superpower to keep their families protected, happy and united. Let your dad know that he is your ideal superhero possessing real superpower through this digitally printed coffee mug. Send this coffee mug to tell your dad how super talented he is and how fun person he is to be with. Receiving this loving gift will make your father feel special and proud.
An Impressive Present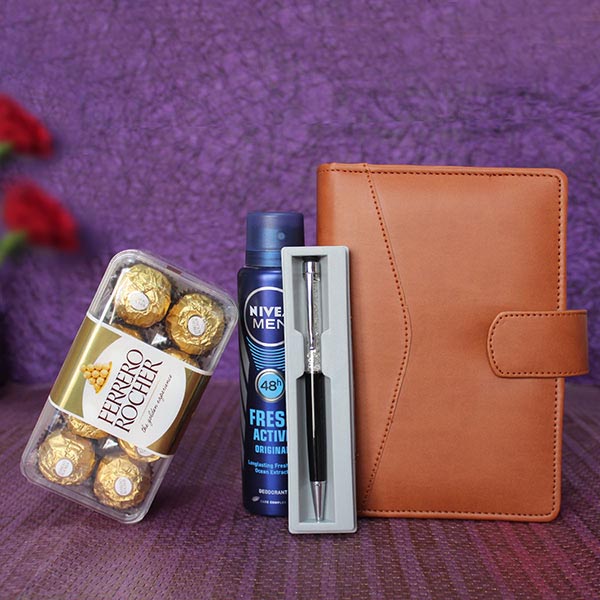 For the father who likes unique and meaningful gifts, this hamper makes an attractive choice. Many attractive and useful items of this gift hamper include an organiser diary, a pen, Nivea men's deo, and a box of Ferrero Rocher chocolates. Order this wonderful gift hamper online to surprise your dad with your meaningful choice. He will be happier than ever receiving this useful gift hamper on Father's Day. Don't wait to show love and gratitude to your dad this Father's day. Send him a gift hamper to make his day special.
My Hero Dad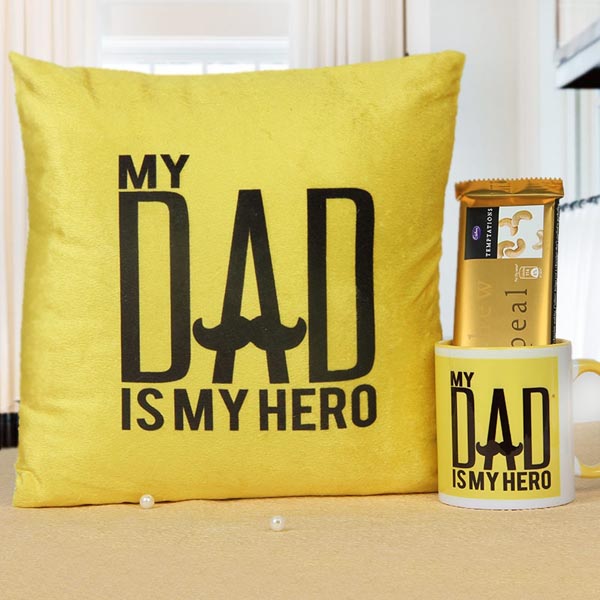 Gifts for father are meaningful when they touch the heart of your dad. Let him know that he is your only superhero with this special gift combo comprising a soft cushion with a message 'My Dad Is My Hero' and a coffee mug that also has the same message printed on it. The hamper also contains one Cashew Appeal Temptations chocolate. No matter how strict your dad appears, he is always soft at heart. Feel his softness this Father's Day through this wonderful gift combo.