Valentine's Day is not only for the lovers, you can always make anyone you love feel special, so why not make your best friend loved and cared for on this Valentine's Day? From supporting you in your toughest of times, to accepting you in all your weirdness, to that of being a keeper of your dirtiest secrets, your best friend happens to be an indispensable part of your life. Why not surprise him/ her with some wonderful hampers that shall remind your best friend how special she/he is in your life? Can you imagine what joy shall such gifts bring to your best friend's life? Well, he/ she shall be spellbound when delightful gift hampers get delivered at his/her doorstep on that of Valentine's Day. From bouquets full of fresh blooms to that of artistically crafted baskets full of chocolates, to that of majestic hampers of diverse combination of lovable gifts, get spoilt for choices as you make the choice of enigmatic Valentine's Day gifts for friends.
Since yellow happens to be the colour of friendship, therefore you can choose to go in for hampers that are of the yellow shade which shall give your gift that special touch. Are you unable to decide that what makes for the best gift for a best friend for Valentine's Day? Well, here we are to get you enlisted as under the best choice of gifts online for the best friend to surprise him/her on Valentine's Day:
Adorable Yellow Roses In A Basket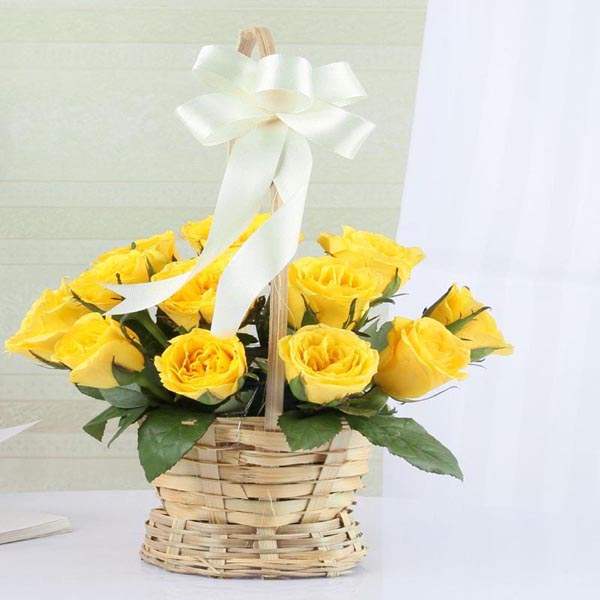 Gift your best friend a basket full of joy and happiness as you surprise him/ her with this adorable basket of vibrant yellow roses. It presents you with 15 yellow roses that are arranged in a beautiful cane basket with a handle and is decorated with an elegant white ribbon bow on the handle. This makes for a charming choice of gift for the dear best friend for that of Valentine's Day.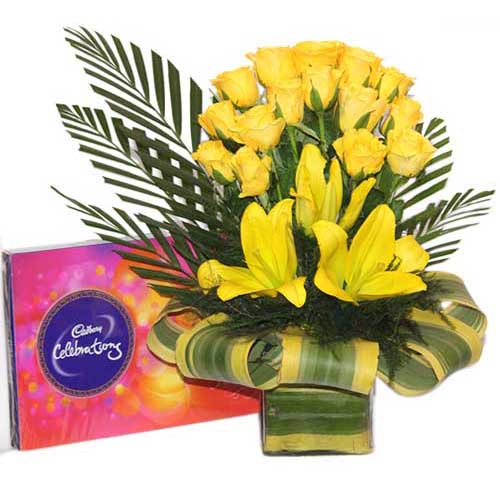 When it is about sending love to your best friend on Valentine's Day, then express it in the most delightful way with stunning flowers and assorted chocolates. This gift contains a bunch of 6 yellow Asiatic Lilies that are artistically arranged in a beautiful bunch in a double paper packing of blue and yellow and done with a decorative yellow ribbon bow. This has been combined with 10 bars of Cadbury chocolates of 14 grams each.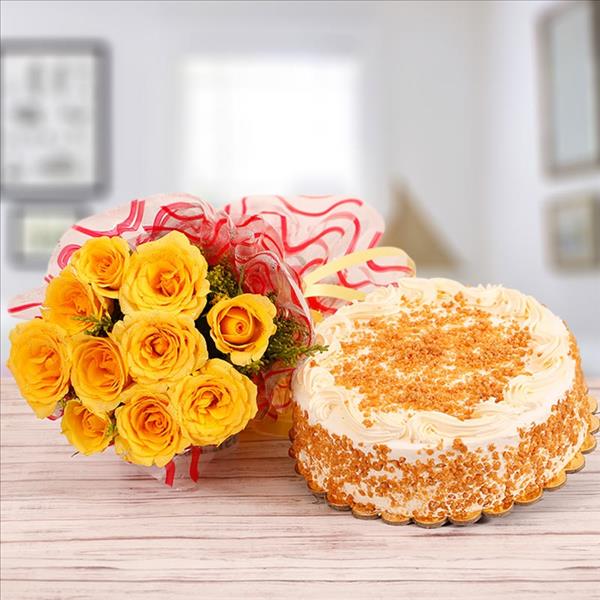 How about surprising your best friend with a hamper of bright bunch of yellow flowers and that of a delicious cake? Well, if your friend happens to be fond of cakes, then your friend is sure to adore this one of its kind gift hamper. It contains a beautiful bunch of 10 bright yellow roses that are neatly wrapped in a cellophane and has been combined with a half kg delicious Butterscotch cake. It gets you this perfect taste with the right mix of sweetness and cream.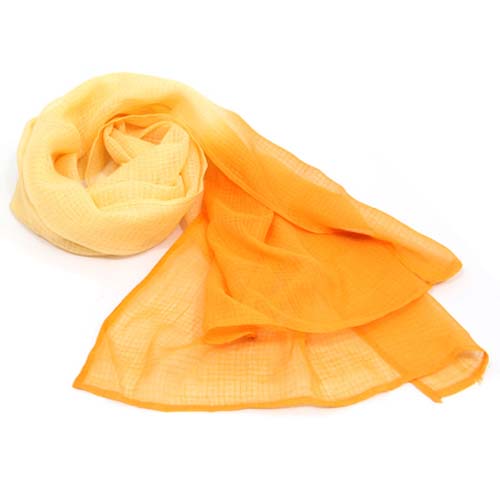 Gift a classy and elegant yellow stole to your best friend on Valentine's Day. Gifting this stylish stole that comes in a lovely shade of yellow can turn even the simplest of costumes with a trendy touch and wrapping that stole around her shall always remind her of this adorable Valentine's Day surprise from your end.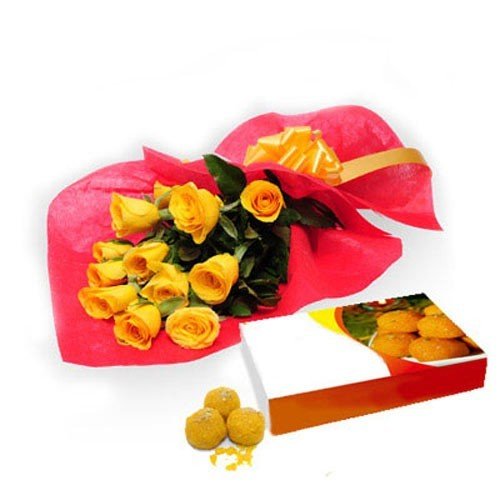 Does your best friend has a sweet tooth? Oh, how happy will she be to receive sweets with flowers as her Valentine's Day gift from her dear friend. This gift contains a pretty bunch of 12 yellow roses in a red colour paper packing and is decorated with a beautiful yellow ribbon bow. This bunch of vibrant and bright yellow roses have been combined with a box of 1kg Motichur Laddus from a good confectionery.
Basket of 1 Kg Assorted Dry fruits with 10 Yellow Roses Bunch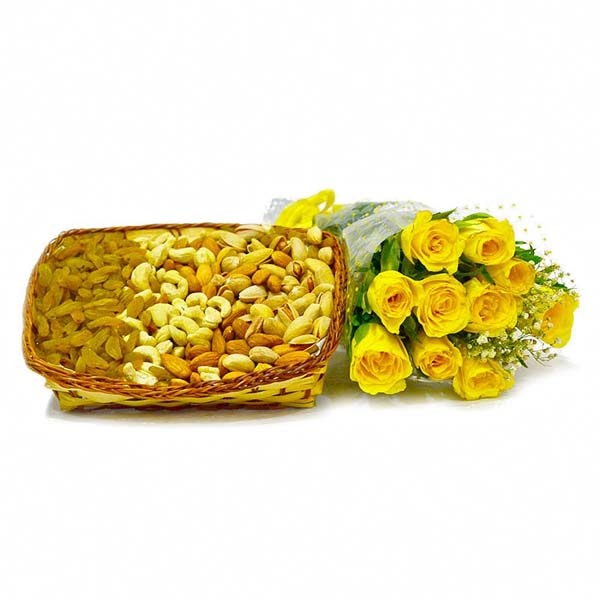 This makes for another wonderful choice of gift for your best friend. It contains a bouquet of 10 sunshine yellow roses that are neatly done in a bunch and has been combined with 1kg mixed dry fruits including nuts and raisins that come in a small box. Such gifts never fail to get one that special feeling expressing immense love, joy and fond remembrance.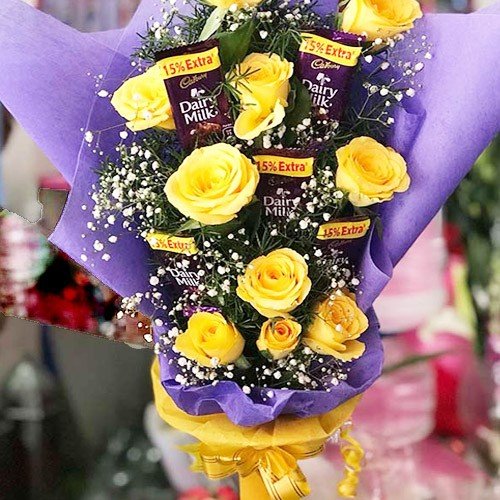 Gift this pretty flower bouquet to your best friend and this indeed makes for a unique choice of flower bouquet along with delectable chocolates. This exceptional hamper has been crafted with 10 bright yellow roses and 5 Dairy milk chocolates of 13gm each that are neatly done in a bouquet along with seasonal white fillers and are wrapped in a coloured paper while being decorated with a yellow ribbon bow. Gift this bunch of chocolates and flowers that never fails to charm.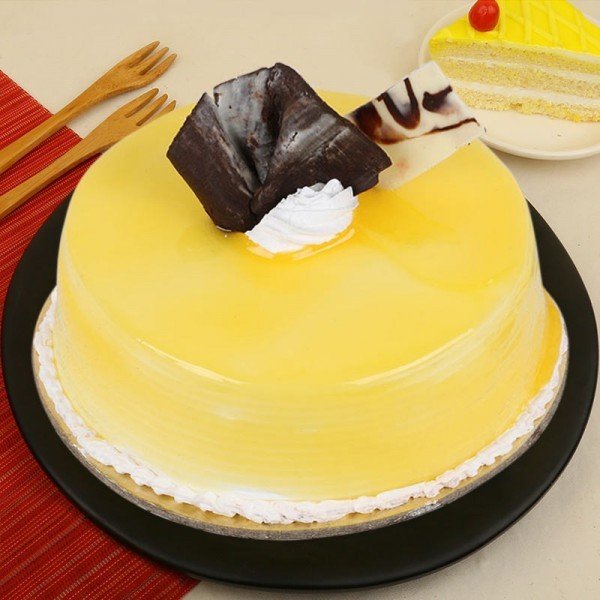 Spread love in the life of your best friend in the most special manner with this delectable cake. Your best friend is sure to love this unique choice of gift that gets you this half kg absolutely delicious mango cake. It comes with a yellow texture with white cream being used as a border below and topped with chocolate topping on one side. This vibrant yellow mango cake gets you this tangy taste of mangoes and sweet cream and is sure to melt in the mouth. Once tasted, it is sure to make your heart crave for more of this savoury delight.
Beauty Of Carnations With Teddy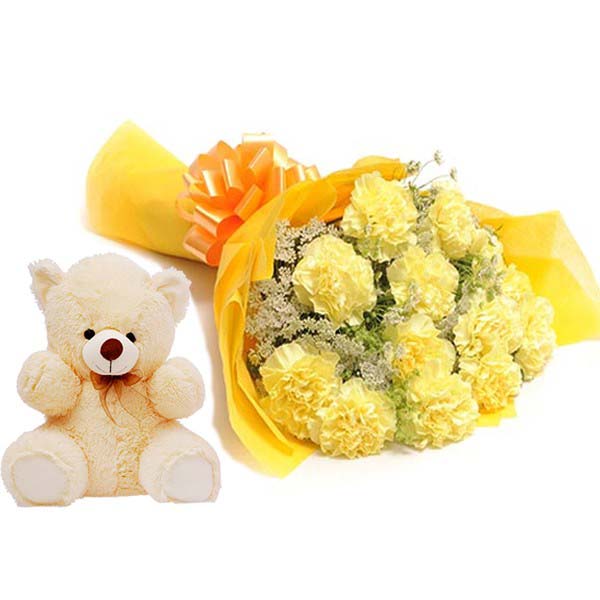 Gift your best friend this hamper full of bright flowers and cuddly soft toy as you spread love this Valentine's Day. This contains a bunch of 6 sunshine yellow carnations that are done in a hand bunch and comes with a 6 inches cute and cuddly teddy bear that is exceptionally cute to say the least.
This Valentine's Day, don't forget to surprise your best friend with such stunning gifts!